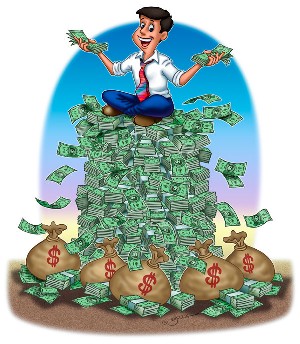 Question: You win the Lotto and turn instantly into a wealthy person,

Can you use the treasures for your own pleasures, or only to repay the debt you owe to your creditors and the remainder goes for charity?!

Think it over!
From The plague of blood the Yidden became wealthy
One should not profit from miracles
(Taanis, Shmuel, Mory, Rav Elozor ben brata, Rabbi Chanina Ben Dosa)
Why when the Manna (that felled from the skies) was allowed to benefit, is it benefit from miracles?
Elisha and the Shunamith, benefit from the miracle of oil?
Shtey Halechem, made from heavenly wheat, is Kosher (menachot)
Avrohom and the Miracle sand, he would refuse to take own advantage.
Rav Huna had a miracle on his business was he allowed to profit from the miracle income
Chida, Taanith 20b 23a 24 25 berachoth 5b Midrash Voera Menachoth 69B